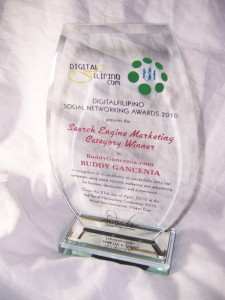 I should want to thank Digital Filipino upon winning the Digital Filipino Social Networking Award in the Search Engine Marketing Category at the Social Networking Conference at the Intercon Hotel Manila on April 23, 2010.
Our campaign started on February 2010, in which the aim was to rank first to fifth on the first pages of Yahoo!, Google and Bing.
Having given so, we identified keywords clients would look up and provided a landing page holding the important information about us, our contact details, the products and services, the rates and sample videos.
Aside from that, Facebook, YouTube and Yahoo! Messenger were also maximized for the campaign.
As a result, our inquiries increased for about three times as the bookings did so from the time the campaign started.
Edged Video Production is a Corporate and Training video producer in the Philippines.