Compared to our winning entry during the 1st Sony Wedding Video Competition, our objective was to show a new element for this year's entry. So, we decided to use chroma, visual effects and graphics. First, we used visual effects using chroma showing a skyline to reveal the couple having coffee in the dining area. Second, we used chroma and graphics to enhance the personality of the couple for the prenup scenes. And finally, we used chroma for the first dance during the reception. We took effort creating the lighting effect for the interviews. We also used camera stabilizers in shooting the make-up scene of the couple, from the face of the bride gliding down to the hand of the make-up artist following the hand of another make-up artist then gliding up the face of the groom and repeating the process. We also used crane for the opening and ending scenes. We had trial edits during the shooting to make sure we could achieve the visual effects we wanted.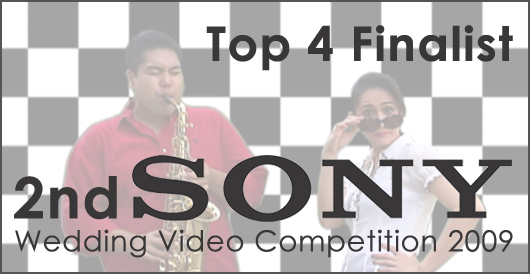 more at realityweddingvideo.tv
Buddy Gancenia is a Corporate and Training video producer in the Philippines.