So this is how it feels, I thought, being in the seat of the entrepreneur going to be interviewed.
Interviewing entrepreneurs as a part of my work during the Agrisyete days, a TV show aired over GMA 7, I thought it was kind of annoying that it always took them so long to face the camera, being camera shy or nervous and all that. Until I was placed in the shoes of the interviewee on my interview for the Business World Ventures magazine.
NOT THE USUAL WEDDING VIDEOS
A video production company become too successful too soon. Jennee Grace U. Rubrico discovers how it was saved from closing.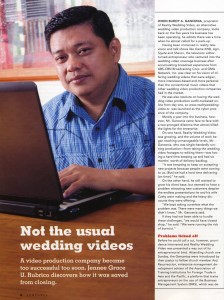 When BUDDY A. GANCENIA, proprietor of Reality Wedding Video, an alternative wedding video production company, looks back on five years his business has been operating, he admits there was a time when he almost called for pick-up.
Having been immersed in reality television and talk shows like Game KNB, Agrisiete and Sharon, the television editor-turned-entrepreneur who ventured into the wedding video coverage business after accumulation broadcast experience from ABS-CBN Broadcasting Corp. was clear on his vision of offering wedding videos that were edgier, more interviews-based and more personal than the conventional music videos that other wedding video production companies had in the market.
He was also resolute on having the wedding video production outfit marked online from day one, so www.realityweddingvideo.tv was launched as the cyber presence of the company.
Merely a year into the business, however, Mr. Gancenia came face to face with a two pronged dilemma that almost killed the lights for the enterprise.
On one hand, Reality Wedding Video was growing, and the volume of work began reaching unmanageable levels. Mr. Gancenia, who was handedly running productions—from taking the wedding video footages to editing them—was having a hard time keeping up and had six months' worth of delivery backlog.
"It was tempting to keep on accepting new projects because people were coming to us. [But] we had hard time delivering [on time]." He said.
On the other hand, he still wanted to grow his client base, but seemed to have a problem attracting new customers despite the endless presentations he and his wife Cathy were making and the heavy discounts they were offering.
"We kept asking ourselves what the problem was. There were many things we didn't know." Mr. Gancenia said.
If they had not been able to hurdle these challenges, "we would have closed shop," he said. "We were running the rest of burnout."

Problems ticked off
Before he could tell a cut, however, providence intervened and Reality Wedding Video was presented a way out of its entrepreneurial bind. Attending church one Sunday, the Gancenias were introduced by their pastor to fellow church member Anji Resurrection, enterprise management development adviser of the Association of Training Institutions for Foreign Trade in Asia and the Pacific, a platform that trains entrepreneurs on the use of the Business Management System (BMS), which was developed by the United Nations' International Center (ITC).
The system, Mr. Gancenia said, prevented Reality Wedding Video from closing. "Through BMS, we identified the problems we didn't even know were problems," he shared.
The first order of the day was for the first couple to apply BMS to determine the profile of their clients. Going through their records, the Gancenias found out that their clients were couples who were between 30 and 35 years old, and whose pockets ran deeper than the younger set.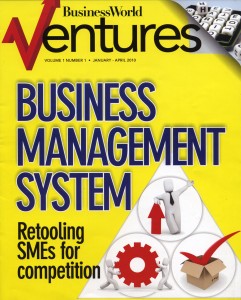 "We didn't know this before. We only found out after the exercise that our existing clients are more flexible with their spending because it was really important to them to make their wedding memorable. They had certain requirements which we [fulfilled], but we didn't know that then," Mr. Gancenia said.
With market now clearly identified, the Gancenias implemented changes in the business. The first thing they did was to tweak their business model so that instead of going after the entire wedding video market, they now trained the lens on the segment that wanted their services.
"All the communications and write-ups were redone to appeal to this particular group. Dati kasi, sabog ang website, hindi alam kung sino'ng tina-target (the website didn't have focus, we didn't know whom we were targeting)," he explained.
Mr. Gancenia added that knowing Reality Wedding Video's niche market made prospective clients' decision to tap other video service companies less discouraging.
"Basically, we realized that if we couldn't land clients, it was because ours was not the preferred output they sought. When we started implementing BMS, we no longer had to exert effort (on those who were looking for something else)," Mr. Gancenia added.
Changes Set
Changes in the marketing strategy followed. Participation in bridal fairs—which ate up 75% of the company's marketing budget but generated substantially less than the 25% allotted for online expenses—was cut, and prospective clients began to get directed to the website for inquiries as well as sample videos.
Client calls and meetings were substantially reduced. Nowadays, the Gancenias only schedule meetings with couples who have already booked on the basis of what they see on the website. This, they agreed, not only lowers costs, but also gives them a 100% booking rate for every meeting they schedule.
Reality Wedding Video has also adjusted its pricing—P27,000 for package in 2005 to a high of over P100,000 now. And to provide incentives to couples who opt to tap Reality Wedding Video, the Gancenias offer a money-back guarantee for videos not delivered within two weeks after the wedding.
The two-week delivery guarantee—which is certain conditions, including the submission songs to be used in the video on or before the wedding day—is much shorter than the industry norm of three to six months.
"We made a matrix of the timetable for the steps from the time the shoot ends until the product is delivered to the client. We divided the steps and then for each step, we determined how long that would take and how many people would be involved. After everything was placed on the matrix, we saw [the whole process] could be done in a week," Mr. Gancenia explained, adding that the remaining is to give the company some leeway for problems that might arise.
He was quick to add that quality is not compromised for speed. As proof of this, Reality Wedding Video joined the first Sony Wedding Video Competition in 2007 and bagged the top prize.
The Gancenias recognized they could be aliening clients with their current business model, but added that niche-ing works for them.
"When BMS came along, it became clear to us we were offering reality wedding video," Mr. Gancenia said. "Music video clients encompass around 80% of the wedding video pie. That leaves us with 20% who are looking for an alternative, which we offer.
"We no longer offer music videos just so we can cater to those who are looking for that. We no longer consider them part of our market."
By all indications, Reality Wedding Video appears to be going in the right direction. In 2007, the company was chosen by the United Nations ITC as the best case study for the use of BMS among small-scale business in the Philippines.
They took the judges by surprise, Mr. Gancenia said.
"Nagulat sila samin kasi ang liit liit lang namin at ng presence namin, website lang talaga [They were surpised because we were so small and our presence is soley through our website]. We don't have any other means of promotion aside from the website.
Expansion
The company has since grown: from the husband-and-wife tandem who operated the business with only a P15,000 video camera, Reality Wedding Video has now six employees and four prosumer cameras.
The Gancenias have also branched out, initiating buddygancenia.com, a video production outfit with a web presence that produces a visual presentations and birthday videos.
Also in the offing are Pinoy-How-to, a website that will carry how-to-videos made for and by Filipinos, as well as training courses on video production.
While the segments for expansion have been determined by the market that Reality Wedding Video has been servicing, Mr. Gancenia pointed out the forays were still in the line with BMS.
"Laging sinasabi ng BMS, wag kang lalayo sa video services. Kung magiisip ka ng product, it has something with video para rin (BMS tells we should not veer far from video services. If we think of a new product, it has to be related to videos)," he said.
Mr. Gancenia stressed that BMS work for them and could work for other small businesses because it breaks down business problems to make them less daunting and easier to solve.
With BMS, there are only two things you need to watch: it's all about production and marketing," unlike the textbook approach, which divides the business into several units, he noted.
"Everything you need to do, you simply have to identify—if it has something to do with the product that you deliver, that's under production. Anything you need to place a deal is under marketing. It's that simple.
Buddy Gancenia is a Corporate and Training video producer in the Philippines.